Airbnb Super Host recognition 20+ times since our very first eligibility.  TripAdvisor Certificate of Excellence since 2017.  Now in our 6th season. Living the dream making memories and friendships hosting some very awesome guests! 
We are so very grateful for everyone that continually rates us among the best hosts in the world on Airbnb and and other platforms but we are even more grateful for all of the people that choose to stay with us that arrived as guests but departed as intentional family and friends! Thanks so Much to All of our Friends, Intentional Family and to all of our Guests!!! We are excited about sharing many more great seasons ahead!
 Reviews
"I have been to many 5 stars hotels across the country, but the customer service Davy showed me surpasses any of these hotels. I have never felt so at home far away from home. Me and my mom needed a quite getaway after a loss in our family. We wanted to relax, and that is exactly what we did. I attentiveness we received here was out of this world. The views, the lake, the hot tub, it's all a win win and I could not speak highly enough of this place."
If you are looking for camping, this is the place for you. The host and his hospitality are the best part. He takes good care of the guests. Thank you for being an amazing host and going out of the way to help us get what we needed at any time. You were a real help with kindling of the camp fire. Would recommend the place for all camping and hiking enthusiasts.
---
---
---
---
---
---
---
---
---
---
---
---
---
---
---
---
 Stayed at Norris Lake Front! 2 Private Rooms. 28 Mi 2 Knox!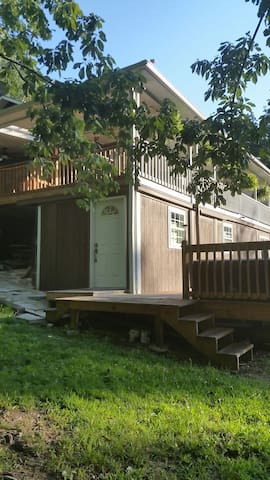 ---
Stayed at Norris Lake Front Rentals & Events. Studio +More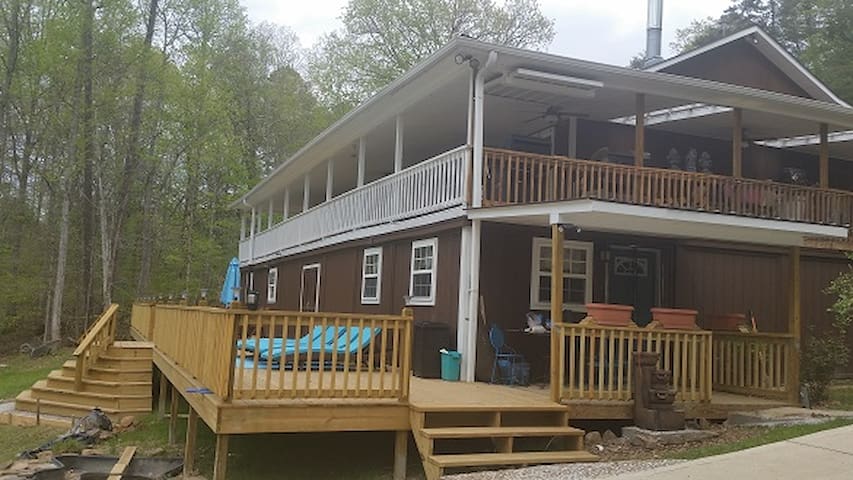 Jarvis, Richland, MO – December 2017
Great environment
Joined in 2017

---
Rosalind From Memphis, TN
 October 2017
Reviewed October 15, 2017 for a stay in October 2017
"Truly a lakefront paradise"
Our stay at this property was better than we could have ever imagined! The scenery itself was magnificent. This location provided an amazingly aesthetic backdrop for our family getaway. The hosts, Davy & Angie, made us feel as though we were at home. They were so hospitable that it felt more like reuniting with family than meeting the property owners. We will never forget the memories that we made during our time with them! We have already made plans to return and look forward to many, many more vacations here!
Davy's place was very nice, secluded and just what we were looking for to relax.
---
Karah, Ashville,OH
October 2017
Stayed at Glamper · Norris Lake Front-TN Primitive"Tiny House"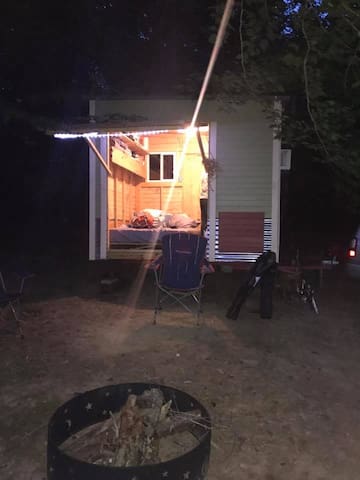 ---

Betty-Lou From Cincinnati, OH
 Oct. 2017
I spent 3 days in Davy's "Tiny Glamper" enjoying Lake Norris and visiting family. Both beds in the "Glamper" were comfortable and I slept well and dry even the night it rained. Because I love to camp, I brought a small camp stove with me and cooked breakfast outside, near the lake. Davy also has camping equipment available. On Saturday I visited the Knoxville Zoo (about one hour's drive) with my grandchildren to admire the delightful red Pandas, the lanky baby giraffe, the stately elephants, the very senior white Rhinos, and strutting camels. This is my second time staying with Angie and Davy and I very much recommend their stimulating company and their place on Lake Norris. I will certainly visit them again.
Joined 2016
---

Eric Idaho Falls, ID – September 2017
Great place to stay for an overnight in a cozy tiny house by the lake. Great hosts.
 Joined in 2017
Stayed at Glamper · Norris Lake Front-TN Primitive"Tiny House"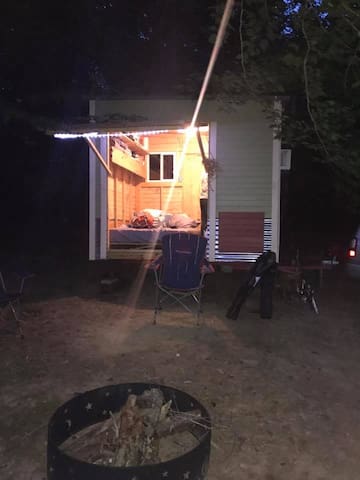 ---

Tracy From Brandon, FL
September 2017
Very nice. Beautiful scenery on the lake in the hills. Davy and wife was there to help and host with everything we needed plus. It was like camping with all of the essentials. Thanks , we will come again.
Joined 2017
---

Jenny From Louisville, KY
Sept, 2017
Very kind, social and enjoy people. This how I describe them. Thank you we had nice time.
---

Jeff From Arlington, MA
August 2017
Great, quiet spot on the water. Dogs to pet, a canoe to paddle, and a nice spot to relax.
---

Molly From Bethel Park, PA
August 2017
Me and a few other friends (13 of us in total– a big group!) came to stay at Davy and Angie's lake house the night before the eclipse. Davy was great– very communicative and funny, and was very upfront about the construction that was still being done on the house which was very helpful. The place was perfect for us– tons of options for sleeping (the king bed was one of the comfiest beds I've ever slept on) and tons of amenities– massage chairs, hot tubs, a canoe to take out onto the lake (very beautiful ride if you like canoeing!). Davy even offered to take us out for a boat ride and Angie was so sweet, baking muffins and cupcakes for us (it was my birthday weekend 🙂 ). Also, they have the cutest dogs and cats ever (Luna loves to be pet for hours). It was such a beautiful place filled with character, perfect for large group get-togethers!
---

Dawn From Gastonia, NC
August 2017
Fantastic spot for family vacations.
---

Monique From Spring Hill, FL
August 2017
Beautiful Lake View! Nice Whimsical and Bright decor, large new Jacuzzi, nice and secluded on lake front property!
Stayed at Norris Lake Front Rentals & Events. Studio +More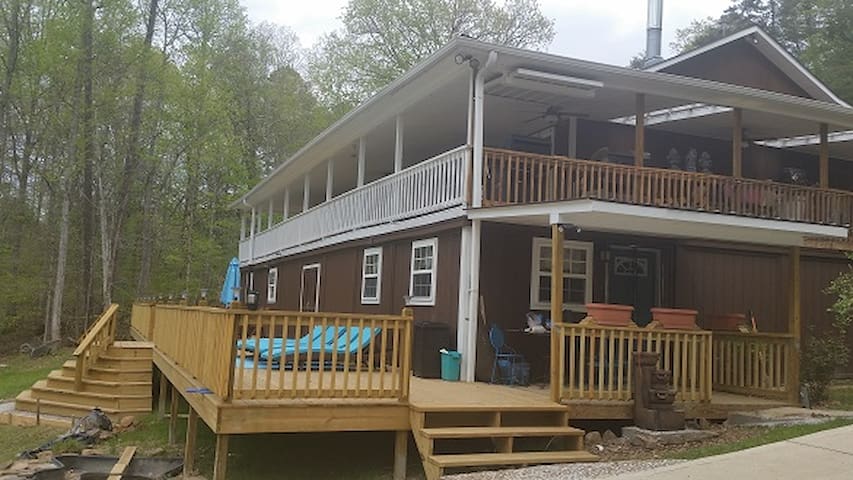 ---

Betty-Lou From Cincinnati, OH 
Aug. 2017
Davy's place provided me the perfect place to kayak and swim on Norris Lake with my family. We loved paddling by the quiet houseboats at Straight Creek Marina, and exploring the coves and bays. The lake was quiet and even on Sunday afternoon there was very little boat traffic. The "Tiny Apartment" was cozy and well supplied. The comfortable king size bed allowed me to catch up on my sleep, and be refreshed in the morning. Davy and Angie were warm, enthusiastic, and accommodating hosts, who very much enjoy their place on the lake. The two great Pyrenees were sweet and became friends with my two grandchildren. The cats provided entertainment by stalking, but not catching, the quick lizards and small toads. I loved the covered deck, where we ate our meals on the ice cream style table and did quiet activities such as, water color painting, bubbles, origami, and block building. Angie made available some plastic wildlife animals that were great for sorting and counting. The weather was practically perfect. The one rainy day was an opportunity to visit Knoxville, about one hour away. The large sun deck was a good place to read and dance to music. I only saw ONE mosquito; perhaps the lake breezes kept them at bay. My family and I truly enjoyed our stay and plan to stay with Davy and Angie again. The property and lake setting provide opportunities for relaxation and water sports, but the true jewels of the lake are Davy and Angie. I feel fortunate to have met such kindred spirits and count them as friends.
Joined 2017
Stayed at Norris Lake Front Rentals & Events. Studio +More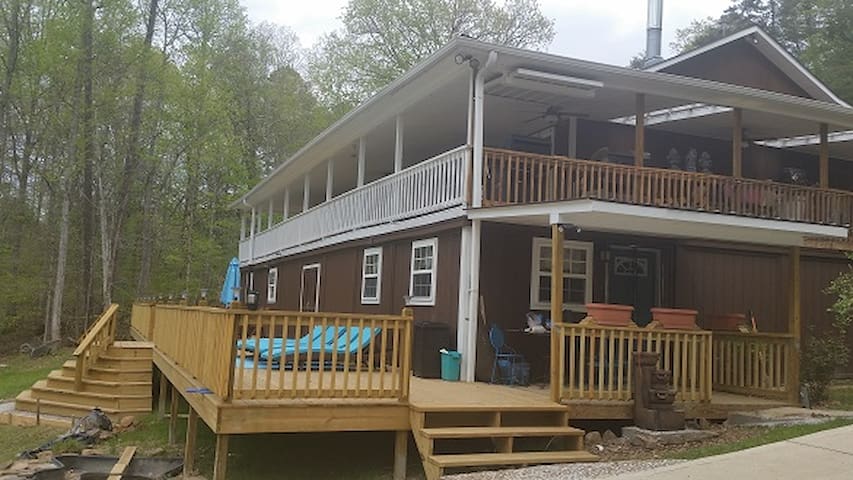 ---
Justin From New York, NY 
July 2017
Davy and Angie are great hosts. They got wind that I love to eat tomatoes and they kept me full with some great ones. Recommend their place to anyone looking for a nice place on the lake to relax. Wish I had brought my boat up as they have a private dock too.
Stayed at Norris Lake Front Rentals & Events. Studio +More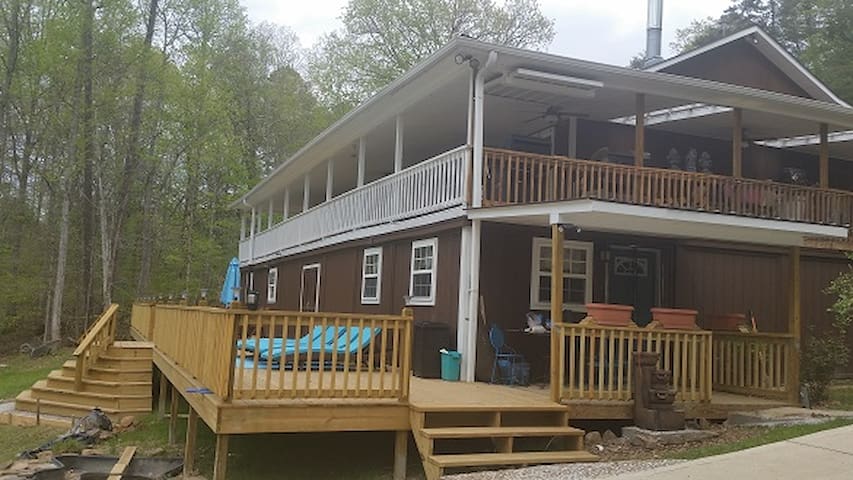 ---
Pictures of Some of Our Guests and Activities at Norris LakeTN.com – More to Follow.